Lacy's Sire:
Can. & Am. Ch. Moraine Hold That Tiger
Terry's page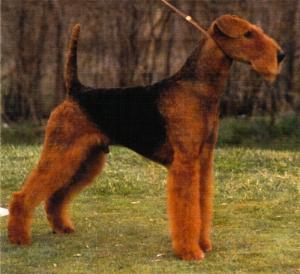 The very day Lacy earned her championship points
was the day dedicated to the memory of her father
Can. & Am. Ch. Moraine Hold That Tiger
He passed away the beginning of July 1999.
Lacy was seven months old.
This is the dog that I had dreamed about for many years. I think he is as close to the breed standard as any Airedale that I have ever seen. He was bred by Mrs. Mareth Kipp and was bought by Mrs. Lotus Tutton. Terry spent most of his life here in Ontario Canada with Mrs. Tutton who loved him deeply. He was the No. 1 Airedale in 1991 with Best In Show, Multiple Best In Show Breed Specialties and he was a Multiple Group Winner. Now remember, this dog was like a dream to me. I had approached Carole Kane about buying a puppy from her. Carole was fabulous, she sent me a lot of pictures of her dogs and the pedigree of the litter that I would be getting a puppy from. At the last minute, plans changed. We received a phone call from Carole telling us ( my husband took the call ) that at the last minute she bred Trina ( Ch. Hollytroy The Designer's Touch ) to Terry. When Ron told me I didn't believe him. I honestly thought that he was just jockeying with me because he new how deeply I felt about Terry. When it finally sunk in, and I realized that he was not kidding, I was so overwhelmed that I sat on my bed and cried. I really couldn't believe that me, of all people was actually having a real dream, the kind you don't think will ever really happen come true. I am very proud to own his daughter!
RETURN BACK TO THE HOME PAGE
BY CLICKING HERE